While the cost of roofing might overall seem a little expensive, you should replace your roof if doing so is the most sensible and economical course of action. How do you determine when your roof should be replaced? The decision to replace a roof rather than continue the incessant repairs solely depends on the age of the roof and the severity of the problems that have been occurring over time.
This said, it is much preferable, less stressful and definitely cuts down on the cost to replace the entire roof if it is quite old and will probably need to be replaced in the coming years or if the repairs made on it over time have been annoyingly frequent. On the other hand, it is more economical to only fix the problematic sections if the roof in question is relatively new and hasn't had many problems in the past.
Factors Affecting the Cost of Roofing
1. Labour and Time Required
Two of the most important elements a roofing contractor takes into account when estimating the cost of your new roof are the labour involved and the time needed to complete the project. They will definitely influence the final cost of replacing your roof. There is no standard way of calculating labour as this depends on their experience, skill level, and how much they can accomplish in a day.
Another consideration is how long it will take to finish the task. The cost of roofing is always influenced by how much time a roofer must spend on your roof and house.
It will take more time and work to finish if the roof is complicated and difficult to access.
2. Type, Size, and Complexity of the Roof
Even though it should be quite evident that the type, size, and complexity of your roof affect the cost, you will be surprised at the number of people who tend to forget this while requesting a replacement roof quotation. So, it is important to remember that the type of roof you choose and its size affect the price of a new roof, along with the complexity of your roof and any special skills it would require.
The complexity spoken of includes its number of facets, hips, valleys, and pitch (steepness).
For example, when compared to a straightforward ranch style roof with just two or four roof facets, a steep pitch is more challenging to roof and takes a lot longer.
3. Location of the Project
In addition to all other factors, the location of the project also determines the cost. For example, things tend to be higher in cities than in quiet, suburban areas. This way, it is best to check what the price rate in your area is before making any important decisions.
4. What the roof is made of
The material the roof is made of will significantly affect how much it will cost to replace it.
A roof made of asphalt shingles could be the best option for you if you have a limited budget and need a reasonably priced roof. However, a standing seam metal roof is a great upgrade if you want a roof that will endure longer and appear more modern.
Slate, cedar shake, and tile are some of these high-end roofs, and while they might be on the high side, they go a long way to ensure that your roof stands out.
5. Removal Of the Old Roof
Simply put, your old roof is ripped off before a new one is replaced. A lot of debris comes off your roof during this tear-off operation. This debris is then placed into a dump truck and driven away to a preferred place for disposal. For this service, the dumpsites impose hefty costs, which vary from place to place and are continually rising. As a result, the cost of your new roof will be influenced by the dumping fees and labour charges associated with removing your old roof.
Mansard Roof
The four-sided French roof, also referred to as the Mansard roof, has a double slope on each side. A new, low-pitched roof is created when these two slopes come together.
The slopes at the bottom of the majority of mansard roof designs are often steeper than those at the top, which serves as its defining characteristic.
Despite having French roots, the mansard roof soon gained acceptance in the US. The design offers a tonne of interior attic space, numerous windows, and allows homeowners to make the most of the upper level. Work, supplies, and installation for mansard roofs range from £5,000 to £7,000.
Pros:
If homeowners want to increase the living space in their homes, a mansard roof is the best roofing option to go with. This said, it is the ideal option, especially as it concerns your changing demands and those of your family.
Cons:
The expense of designing and installing this roof was higher than it was for any other roof.
Unfortunately, heavy snowfall causes a lot of damage to the lower slopes.
Gable Roofs
The triangle-shaped section where the two pitched portions of the roof converge is referred to as the "gable," and this is where the name of the roof comes from. The gable roof is a highly common style of roof because it is simple to construct, effectively sheds water, allows for ventilation, and can be used with most building designs.
Cost :The price of a gable roof ranges from £2,000 to £4,500.
Pros
A gable roof gives you the option to enlarge the area under your house by letting you use the pitch as a storage room. Gable roofs are also much simple in design, cheap to maintain and repair, and even easier to replace thanks to this. And, for the winter months and other strong weather conditions, gable roofs continue to be the best option for shedding all snow and rain.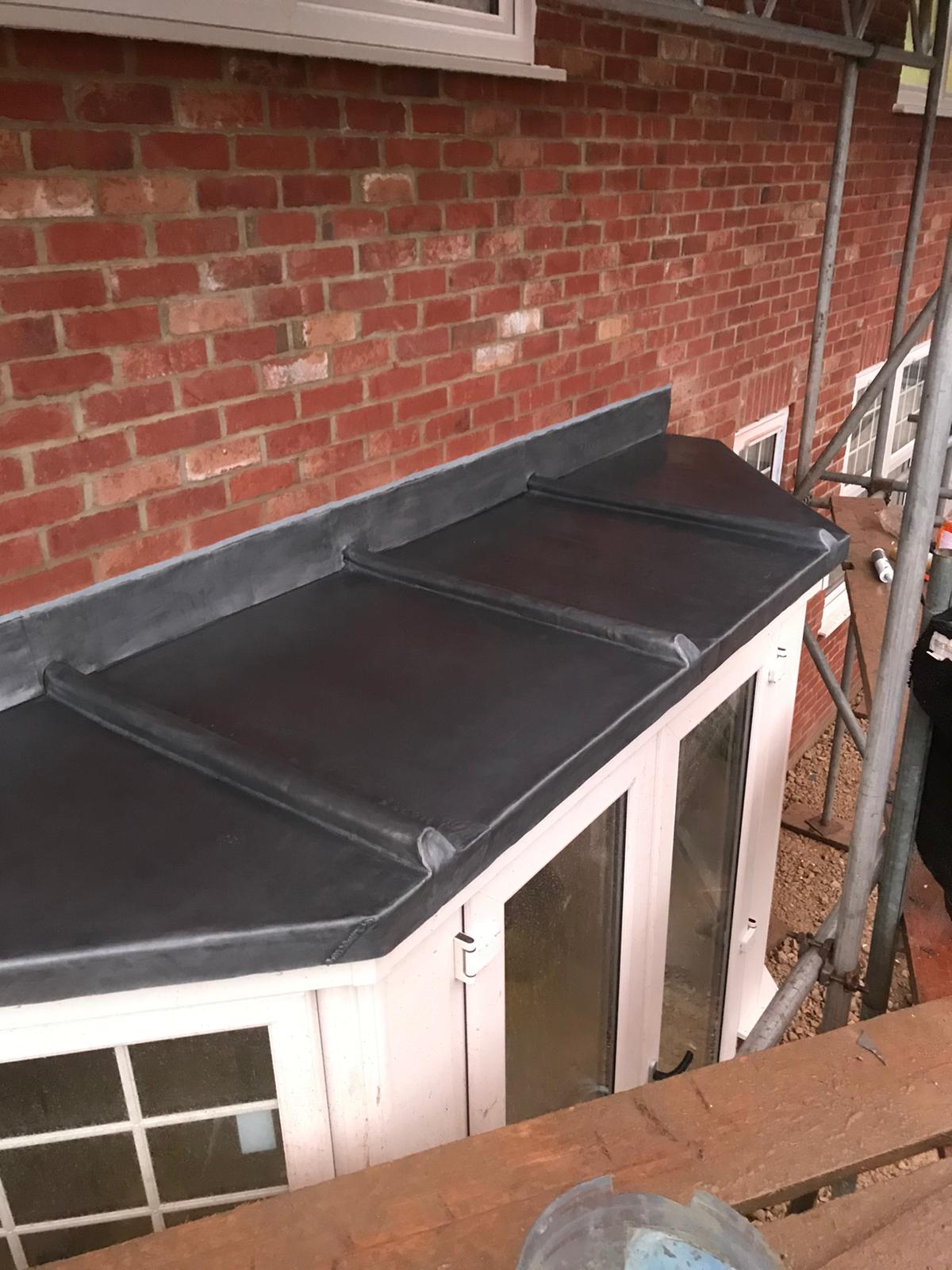 Roof Repair
It's important to keep your roof in top condition to protect your home from the elements. That's why our team at Priory Roofing Services of York offers a wide range of roof repair services in Holgate. We can repair both pitched and flat roofs, using the latest techniques and materials.
We understand that a leaking or damaged roof can be a big problem, so we offer a 24/7 emergency roof repair service. This means that we can get to your property as soon as possible to carry out the repairs you need.
Our team is experienced in all types of roof repairs, so you can be sure that your home is in safe hands. We'll always give you honest advice about the best way to repair your roof, and we'll only ever use the best materials to carry out the work.
If you're worried about your roof, don't hesitate to contact us for a free roof inspection. We'll be happy to give you our expert opinion on the best way to repair your roof in Holgate, and we'll make sure that your home is safe and weatherproof again in no time.
Roof Survey - Inspection
As your local roofing contractor, we offer comprehensive roof inspection and survey services in Holgate. Our team of experienced professionals will thoroughly inspect your roof, identify any existing or potential problems, and provide you with a detailed report of our findings. We can also provide recommendations for repairs or replacement, as needed.
If you're considering buying a new home or commercial property, we highly recommend having a roof inspection survey performed before making any decisions. A professional roof inspection can save you thousands of pounds in the long run by identifying any potential problems that could cause future damage.
Don't wait until it's too late - call us today to schedule your roof inspection survey!
No matter what kind of home you have, the roof is one of the most important parts. It's what protects you from the elements and keeps your home in good condition. That's why it's so important to choose the right roof tiles for your home.
At our company, we offer a variety of roof tiles to choose from. Whether you're looking for concrete, clay, or slate tiles, we have options that will suit your needs. We can help you find the best roof tiles for your home, based on your specific situation.
If you're not sure which type of tile is right for you, we can help you figure it out. Concrete tiles are a popular choice for many homeowners because they're durable and long-lasting. Clay tiles are also a good
option, and they provide a unique look for your home. Slate tiles are another possibility, and they offer a classic look.
No matter what type of roof tile you're looking for, we can help you find the perfect option for your home. Contact us today to learn more about our roofing services.
These price estimates, as previously noted, are completely based on your location and the degree of roof damage.
Gable Roofs
Since the gable roof requires minimal maintenance as no specialised equipment or materials are required, the cost of maintenance is average and affordable. The pricing range for its repairs should be between £40 and £250.
Depending on the type of material selected, the price to replace the roof is projected to range from £840 to $2,000.
Hip Roofs
Hip roof repairs are quite equivalent to the expenses of their pitched counterparts, but their replacement is more expensive and needs more funds than that of a gable roof replacement.
A hip roof repair normally costs between £40 and £250, compared to the starting price of £3,250 and the maximum cost of £5,250 for a roof replacement.
Flat Roofs
While flat roofs are initially less expensive, they have certain drawbacks, especially the fact that they demand high maintenance costs over the course of their lifespan. The best budget for repairs on a flat roof is between £40 and £250, and could go as high as a maximum price of £5,250.
When fixing a flat roof, a water-resistant material must first be applied before the final material, such as concrete or wood, is used. The technology used in this roof necessitates a sizable workforce of experts, who in turn need more resources. It costs money to replace a flat roof, with estimates ranging from £840 to $2,000.
Mansard Roofs
Mansard roofs are a combination of pitched roofs, so even though they require more technical upkeep, they are very simple to fix when they have issues. While replacements can cost up to £10,000 or more, according to roofing specialists, the cost of repair for this type of roof will cost between £40 and £250.
Lean-to Roof
Lean-to roof replacement is priced similarly to other types of roof replacement. A roof of this type typically costs between £40 and £200, with the average price falling somewhere in between. A lean-to roof can be repaired for a maximum of £300.
Cost of Materials Needed for Roof Maintenance and Repairs
Roof repair and maintenance costs differ from person to person and are entirely due to the type of roof as well as the size of the house.
Roof Leaks
Leaks are generally annoying, and a leak in the roof is not left out.
Roof leaks typically cost between £550 and £2,500, depending on the severity of the leak.
Broken Roof Tiles
The cost of reattaching cracked or loose roof tiles ranges between £1,500 and £2,570 on average.
Flashing Repair
Roof flashing costs between £1,200 and £2,500 on average.
Decayed Wood
Once the wood begins to rot or decay, it must be replaced to prevent the entire roof from collapsing. The price is determined by the type of wood used.
However, we can estimate the cost of resolving this issue to be between £2,500 and £5,000.
How Long Does It Take to Install a New Roof?
Installing a roof from scratch takes time, depending on the shape of your property, the materials used, the ability of the workers, and whether any improvements are required. Roofing typically takes between 24 hours and three days to finish.
In exceptional cases, such as when constructing non-residential construction, the three-day deadline is exceeded, and the roofing project could require a week to be completed. The size of your structure will greatly influence the amount of days it will take to roof. You may be certain that the larger the structure, the longer it will take to roof it. And also the number of people handling the project will also depend on how quickly or slowly the completion of your roofing project.